Advanced Group Training Programs for
Spiritual Acceleration
Achieve your higher purpose through group training programs designed with unique, customized teachings from Kenji Kumara that will help you in the mastery of your awakening
Advanced Group Training and Mentoring Programs
for the Wayshowers, Lightworkers, and Divine Master
Mentors and Teachers
Accelerating the Healing, Mastery and Advancement of Your Journey's Higher Purpose
Advanced Group Training and Mentoring Programs
for the Wayshowers, Lightworkers, and Divine Master
Mentors and Teachers
Accelerating the Healing, Mastery and Advancement of Your Journey's Higher Purpose
Introducing Kenji's powerful group programs…and you are invited!
Are you a soul that's dedicated to self-healing, awakening and the ascension into a "New Earth?"
If so, please keep reading…
A Gateway Has Opened…
Two special programs offered by Kenji Kumara (these programs start at varying times; you will see more details about this below).
Each program has its unique offering and way to serve.
It is recommended to join Program 1: Wayshower-Lightworker Inner Healing Program first and then Program 2, Self-Mastery: Be the Master of Your Own Life Program next, should you feel called.
These group training programs combine coaching and training for those seeking to advance quickly.
Right now, is the time to plant the seeds for your spiritual mission here and learn how to harvest those seeds at a faster rate to activate your higher purpose and your innate gifts.
How do these group training programs work?
Each session with Kenji will be a 1.5-hour (90-minute) Zoom presentation with free replay/download but live attendance is required as much as possible (this will harmonize each group session).

16 people, 8 classes, session work for 4 attendees each class and switch off.

Session held every other Tuesday and meetings are 90 mins recorded Zoom with replay/download at 8 pm ET (USA).

As the group progresses, the energy builds in intensity and empowerment. Each sharing helps others in the group to initiate elevated awareness. In essence, attendees will receive healings and activations as each attendee is a reflection of the group.

This works as a group, or tribe, connecting, supporting and acknowledging each other. Community is built through these programs on many levels.

Guides: Kenji will be assisted by Mother Mary, Yeshua, St Germain & the Violet Flame, Logos Sanat Kumara & Lady Venus, A-A Michael, the Magdalene lineage, the Elohim of Peace, the Enochian Angelics, the Unicorn Kingdom, the Elementals and Alpha & Omega.

Sacred space and protection, safety and nurturance will always be provided. Each class will conclude with an Integration Meditation that can include anything from cellular re-positioning to auric field re-harmonization, and more!
TESTIMONIALS
"During this program, as a collective group we covered so much ground and experienced an uncovering and elevation of core thoughts and beliefs that we were taught and were engrained at such a young age, those ideas we accepted as truths and allowed them to be the reason we have held ourselves back from fully expressing and fully enjoying life. With each session I felt more free and more alive and more joyful!  We all shared similar transformation stories … in just 6 weeks!!! Thank you, Kenji for this amazing program!!! Forever grateful!"
— Kimberly Trefz, PA
"Kenji's mentorship programs are incredible and illuminating 'bootcamps for the soul' that journey into discovering the multi-facets and multi-dimensions of the TRUE Inner Self! Kenji is a Master energetic 'Quantum Lightweaver' and true gift to the world in his full commitment to giving and providing us instantaneous, group and individualized 'one-on-one', support. Kenji provides additional expansive life tools for continued self-discovery and soul introspection that are forever lasting. 
 I feel truly blessed to have found Kenji and I highly recommend his programs for those seeking to invest in themselves and are willing to 'dig deep' in order to 'awaken' into their highest and most authentic path."
— Dr. Karen L. Bicsak, Huntington, New York
"I love how it feels to be in and be supportive in a group. Just like my family, each of us can have ups and down moments and each class has allowed this to be just that. Kenji and team always raise us all to the higher vibration, no matter where we are in that moment, that day."
— Healers Group
"The unexpected bonus arrived two days before the final class:  I awoke that morning with an extraordinary feeling of Peace, a sense of stillness and appreciation (for life, for me, for you, for the Earth, for everything) that I could bring to the final class and that continues even now, to manifest in and through me.  Thank you, Kenji.  In my experience, your course on Manifesting has really delivered! "
— Teresa
"Far from here it feels that Source resides, but time spent with Kenji brings everything into focus for alignment, which he did with clarity and compassion.  Issues that felt they eroded at the fabric of our existence were dissolved into awareness.  Kenji is an incredible being who supports us while we explore territory we'd normally avoid or fear.  I found that as he masterfully managed the whole group for each session, he always maintained a state of kindness and gentleness as he addressed a wide range of experiences and always delivered the guidance in perfect timing for each of us."
— K.S, Western Australia
"This class was so magical. To listen to everyone and then have Kenji tailor make an activation/experience for each person was amazing to witness. Personally, I had experienced several days of not feeling well along with tough emotions in a few relationships. My activation from Kenji was calming and clarifying. The next day through today, I have felt so clear and not angry like I was. I feel more like myself. I am so grateful. I feel more connected to myself and to others and to the higher realms."
— Anonymous
"I felt great warmth and support for all the ladies sharing. What a wonderful space where we can be so vulnerable. As you say Kenji, the more open we are, the more help we can receive from you and your Team. I felt more confident to speak after Class 1 (thank you) and found myself willing to take my turn early. I loved the way the theme played out across the whole group _ 'I'm Free, I'm Free, I'm Free'"
— Anonymous
"This experience has given me glimpses of what would it look like to be completely me and being in the light. The ideas that I had about my life, the desires, and thoughts that I considered mine but were cultural and societal, have been washed off. I can see what really works for me and am able to relax in that knowledge. I hope to be able to stay in this knowing going forward."
— Anonymous
"It was great as always. I feel as if I learned a lot from Kenji in this class about energy medicine. And I slept REALLY WELL that night."
— Anonymous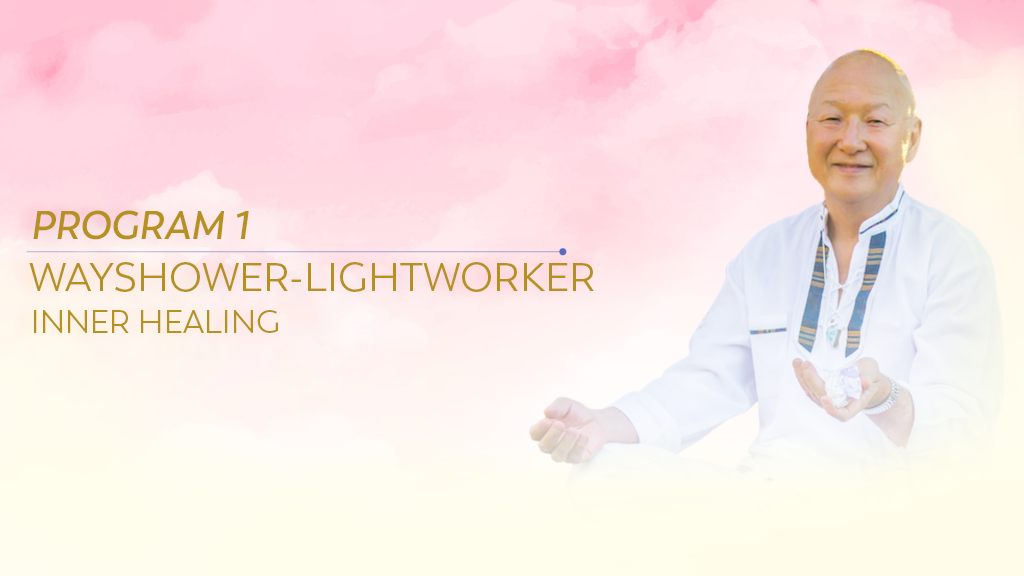 PROGRAM 1: WAYSHOWER-LIGHTWORKER INNER HEALING
ADVANCED GROUP TRAINING PROGRAM
This group will help facilitate the inner healing necessary for you to step fully into your wayshower and lightwork purpose. Together, this group will address trauma, releasing emotional blockages, and other aspects that are holding you back from attaining the clarity that you seek in your unique lightworker's journey.
If you know that you need to heal aspects of your Self, this group will provide you with a sacred space to harmonize the mind-body connection and awaken you to the ability to self-heal.
Each group session will address a theme so that the group can move into higher frequencies of healing and transformation together. There is great power in group healing! 
THIS GROUP IS FOR YOU IF YOU'RE READY TO HEAL ASPECTS OF YOURSELF AND AWAKEN THE WAYSHOWER AND LIGHTWORKER WITHIN…
What you will receive by joining this program:
How to do an emotional blockage release: healing/clearing ancestral, metaphysical and cultural hypnosis
How to wield the power of wonder and miracles in your life
Piercing the veil and healing the blind spots in your perception
Empowering the healing of "personality split" caused by birthing and early childhood traumas
Dissolving attachment cords and bindings that assist in healing the "wounded healer" within
Awakening and calibrating fifth dimensional (5D) frequencies to aid in your current healing and transformational processes
Learn how to set positive agreements and intentions with your Self
Intentional chakra-focused exercises
Helping you to unlock new Ideas
Utilizing Divine Mantras to support your healing process
Exercises in creating Quantum Intentions to re-ask or re-write agreements
I AM word empowerments + MORE!
ADVANCED GROUP TRAINING PROGRAM 1:
Wayshower-Lightworker Inner Healing Group Program

NOW ACCEPTING ATTENDEES FOR FALL 2022 SERIES
DEADLINE TO REGISTER (TAKING 16 APPLICANTS ONLY!):
SEPT. 6, 2022, MIDNIGHT (EST, USA)
Meeting Tuesdays / 8pm EST (USA) / 90-Minutes:

Starts September 2022
8 sessions in total
Video presentations
Free replays/downloads
Group participation
Guided segments
New Sale Prices till september 1st!
Was $1000 now $800
Save $200 and pay in full!
$800.00 paid upfront (only $100 per session!)
Payment Plan Option:
4 payments of $250.00 (no service fees).
Total: $1,000.00*
*Charged first $250.00 payment at time of purchase and then on September 1, October 1, and November 1, 2022
A WAIT LIST WILL BE MADE AVAILABLE FOR NEXT SESSIONS IN 2023 SHOULD YOU NOT BE ABLE TO GET IN
TESTIMONIALS
"I have for a long time desired to understand, accept, and acknowledge my spiritual gifts. I was scared to do that so far. In this session, for the first time in my life I got a glimpse pf how wonderful that could be. By the end of the group mentorships program, I hope to be comfortable with my spiritual gifts."
— Healers Group
"This class was wonderful because so many people brought up questions about things I had already been thinking and wondering about, such as 'How to understand our physical body in relation to the Soul's journey.' That was a great key question. I really enjoyed the more in-depth answers you helped us sort through around the power of creation, by using our Word."
— Healers Group
"I really enjoyed seeing how the other group members were 'making it work' as healers and practitioners in the world. What struck me most was that all members of the group seemed to be 'effortlessly' being an example of serving others,but struggled more with 'expressing their truth'."
— Teachers Group
"I felt so honored to be present for others in the group sharing. Every one of the ladies worked on issues I could relate to in my own way. It was wonderful to see the improvements before our eyes and on those from last class. Rebirthing was special – and so unexpected. I think we will all be sending supportive thoughts and prayers to each other after this one particularly. This class was wonderful because so many people mentioned questions about things I had already been thinking and wondering about, such as 'How to understand our physical body in relation to the Soul's journey."
— Anonymous
"I found the group experience to be wonderfully comforting and inclusive, and a safe place of free expression and trust. Kenji, you really shine as a teacher/mentor/guide to us all. Being able to 'hear' what underneath everyone's words is and help to make us aware of the connection that we all have together is truly remarkable. I am amazed and humbled how so many others are experiencing similar energies that may just have a variation in storyline."
— Anonymous
"I would like to take these experiences and show others how great it feels to belong and share in a less "therapy-like" environment. Isolation (even self-imposed) is never as "rich" as this feels when you are doing self-discovery work. I wondered what 'self-mentoring' meant in your website – now I know as I write this ha-ha THANK YOU."
— Anonymous
"Each of the class members has brought up great issues to address issues that are applicable to all of us. I can't believe we are to the last class; it went SO quickly."
— Anonymous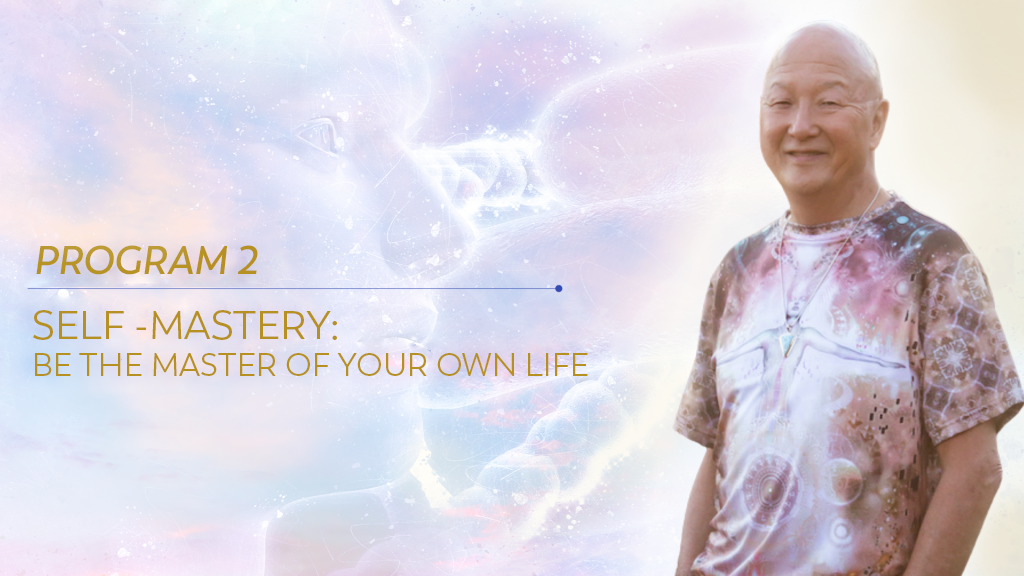 PROGRAM 2: SELF-MASTERY: BE THE MASTER OF YOUR OWN LIFE
Advanced Group Training Program
Now is the time to ignite your personal mastery quest…
As Leonardo da Vinci once said,
"One can have no smaller or greater mastery than mastery of oneself."
Self-mastery unlocks higher consciousness, and by learning who you truly are, this is how you learn to walk as an ascended master would upon this planet…
What is self-mastery?
It's a process to own all that you truly are. Stripping away all that you are not. And, accepting all of the past and present to bring all aspects of your being into One.
Mastery is when you have clarity and clear intentions with each step that you take on the continuous journey with one crucial goal in mind — evolution for your (and other's) higher good.
Self-actualization is how, as humans, we can reach our full potential. This is the level-up phase and how to begin the very thing you're here to master in service to others.
Using effective exercises in manifesting your power, this group will help you to awaken and empower your imagination.
THIS GROUP IS FOR YOU IF YOU'RE READY TO IGNITE YOUR SELF-MASTERY PATH…
What you will receive by joining this program:
Clearing filters in the mental, emotional, and physical body
Learn how to re-calibrate neural and chakra pathways to align and center (bringing clarity)
Integrate future life potentials
Reclaim authority & sovereignty
Understand the power of the word and re-write incarnation agreements
Re-activate DNA-consciousness to drive faster evolution
Learn to tune into the Elementals connecting to the life force in all living things
Connect to your unique Inner Peace through personalized activations
Recalibrate the rhythm of your being to the Central Sun Matrix (this is the mastership in manifesting via connection to source energy for all conscious existence within our universe} + MORE!
TESTIMONIALS
"This class was very eye-opening! It seems everyone is sharing in this feeling of disconnect from their soul, and their 'purpose', myself included. It was interesting to hear that commonality, when this group is a group of people that are already contributing back to the world in an individually, amazing way."
"I really enjoyed seeing how the other group members were 'making it work' as healers and practitioners in the world. What struck me most was that all members of the group seemed to be 'effortlessly' being an example of serving others, but struggled more with 'expressing their truth'."
"I really enjoyed this call and I am overjoyed at how connected everyone already is. It is comforting to be in such a safe space being able to share openly with people that are in touch with their vulnerability and willing to share. It is also profound to be in a space where everyone is received with love, no matter where they are at in their own personal experience and journey."
"A very good experience, from beginning to end. I like that you focused on each of us individually, and I'm pleasantly surprised that I didn't melt when it was "my turn" lol. Your course has brought together an amazing group of individuals, and I can appreciate the journeys others have made, as well as my own up to this point."
ADVANCED GROUP TRAINING PROGRAM 2:
Self-Mastery: Be The Master of Your Own Life
Now Accepting Attendees For Fall 2022 Series

DEADLINE TO REGISTER (TAKING 16 APPLICANTS ONLY!):
SEPT. 13, 2022, MIDNIGHT (EST, USA)
Meeting

/ 8pm EST (USA)

:

Sep 13, 2022

Sep 27, 2022

Oct 11, 2022

Oct 25, 2022

Nov 8, 2022

Nov 22, 2022

Dec 13, 2022

Dec 27, 2022

Starts September 2022
8 sessions in total
Video presentations
Free Replays/downloads
Group participation
Guided segments
New Sale Prices till september 1st!
Was $1000 now $800
Save $200 and pay in full!
$800.00 paid upfront (only $100 per session!)
Payment Plan Option:
4 payments of $250.00 (no service fees).
Total: $1,000.00*
*Charged first $250.00 payment at time of purchase and then on September 1, October 1, and November 1, 2022
A WAIT LIST WILL BE MADE AVAILABLE FOR NEXT SESSIONS IN 2023 SHOULD YOU NOT BE ABLE TO GET IN
TESTIMONIALS
"The gift of this entire program was the uncovering and elevation of core thoughts and beliefs that seemed 100% reasonable since they were taught in the society and engrained at such a young age!!!  I took these ideas as truths and allowed them to be the reason I have held myself back from fully enjoying my life. With each session I felt more free and more alive and more joyful!  Thank you, Kenji for this amazing program!!!"
"I really gained a lot of insight in this session in terms of the connection between who I am as a business, and who I am as a person, and how they can be integrated and one in the same. And I received the message from tonight, of always feeling at 'home' within myself, regardless of circumstances or surroundings. As I was listening to everyone else, I was getting different 'movies' popping into my head that has similar themes to whatever the speaker was experiencing. Lots of downloads were coming in from my guides."
"I got a lot out of this call. Very good heart-opening session. This call actually felt like a 'short' call with how it paced and was guided. Everyone shared so beautifully and openly. Walking through 'the process' for each person, specific to their situation, yet applicable to us all, was so helpful! It is amazing to be able to be in a group where everyone is looking to find their most authentic version of themselves. This class furthered us along to shift into a different way of looking at things from a 5D perspective, with different 'language' we can apply to access our higher version of ourselves."
"Wow, Just WOW! What an amazing experience to be with such beautiful people. As always, the space held was so safe and nurturing – and for such a variety of shadings! Guides and unicorns – lucky us! Kenji and team always raise us all to the higher vibration, no matter where we are in that moment, that day. I was grateful to receive assistance in how to help my clients. Kenji led me through a beautiful process I can use."
"The experience was phenomenal like all previous classes. Before the class I was in extreme physical pain for two weeks. That completely healed. These sessions with you are my physical manifestation of magic."
"Oh my gosh, Oh my gosh, Oh my gosh!!!!! Last night's call was absolutely amazing!  I had the best night's sleep and feel so calm and clear of the nervous chatter in all of my subtle bodies!  And my body feels so much less anxious as well!  I was skeptical that I could get such relief, release and movement in JUST ONE SESSION … but boy was I mistaken!!!  I am over-the-top excited for participating in your groups over the next few months!!!"