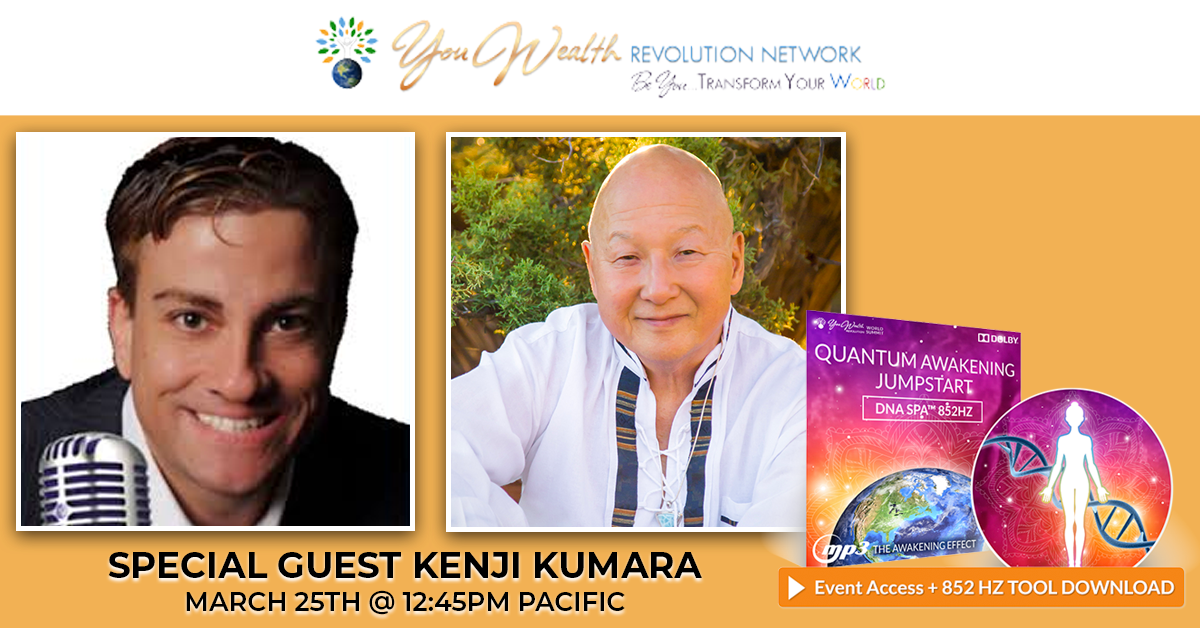 Take a moment and write down this date and time: March 25th 12:45 PM Pacific   That's when the world's largest online energy soul healing event kicks off! For nearly a decade, more than 3.5 million people have attended Darius Barazandeh's You Wealth Revolution. Each day during this 'hands on' event you'll be guided through 'quantum field' transmissions and you will even get access to 1-on-1 group help. Each day understand exactly what you need to know in 2019 to create massive shifts in your vitality, energy and abundance And since you'll get energy shifts in your body from each session…   JUST push play or dial in, sit back and enjoy!   All sessions are FREE Worldwide!
On March 25th, Kenji Kumara will be the special guest.  After a 5 year absence, Kenji will be presenting with Darius "Steps to Mastery & Embracing The Unknown: Igniting your inner truth and healing power."  So please join us for a quantum level conversation and activation. We are offering brand NEW show packages from our recent 2018 Australian teaching tour, a Blog article and free Opt In gift.
12:45pm Pacific | 1:45pm Mountain | 2:45pm Central | 3:45pm Eastern | 7:45pm GMT
Evening Broadcast
4:45pm Pacific | 5:45pm Mountain | 6:45pm Central | 7:45pm Eastern | 11:45pm GMT
FREE — Register Now + Get Your Gift
GET THE NEW 'QUANTUM AWAKENING JUMPSTART & DNA SPA™ 852 HZ' GIFT AND EVENT ACCESS NOW — IT'S FREE   >> Register Here – Gathering and Healing Tool Download – ITS FREE!   First, you'll get the Quantum Awakening & DNA Spa Tool which has an 'ancient energy encoding' and an energy process based on 1,787 awakening experiences! This tool instantly and automatically shifts your energy away from stress, worry and old anchors – Just in the first 57 seconds alone! And it has the energy processes that science has found can beneficially alter our DNA!  
—————————–
"Absolutely I cannot count the ways I have changed…
and became so much calmer and happier"
—————————–
  You'll also have access to The Awakening Effect™ Gathering. A special group of people will experience never-before shared tools from top teachers, healers, scientists with 'hands on' LIVE help, 1-on-1 interaction, wisdom and daily energy practices which will automatically allow you to: – OWN and empower your energy field to be free of interference and rapidly attract the things you truly desire. – FREE yourself from negative energy and influences and understand how to protect yourself from harmful 5G, EMF, negative influences, geomagnetic stress and more… – FULLY experience happiness and love on the 5th dimensional 'New Earth' no matter what's happening around you – Rejuvenate life force energy with cutting-edge energies for 2019 that can skyrocket your natural abundance and joy… Each day understand exactly what you need to know in 2019 to create massive shifts in your vitality, energy and abundance   P.S. Tens of thousands of people will have transformational experiences…
Here's just a few more comments from past participants:
————–
"I am the happiest I have ever been"
————–
"Miracles!  I am surrounded by miracles"
————–
"FAST transformation beyond recognition"
—————————–
"Gradually everything changed by listening…from finances, relationships and health…"
—————————-
"I have found a JOY and a peace I never thought was possible…"
  Looking forward to having you there! Kenji Kumara   >> Register here to get 'quantum field' transmission replay